Back in San Francisco, and spent the weekend in Golden Gate Park at the Outside Lands Festival.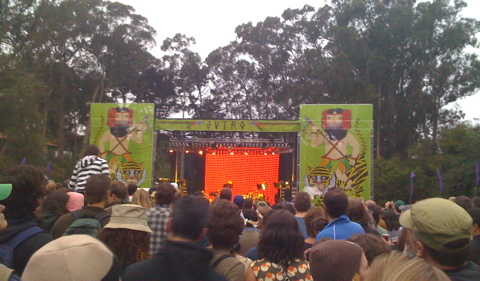 Beck playing at the smaller Sutro Stage. He should have been at the main stage, it was way too crowded and the sound system was weak. His new album is excellent.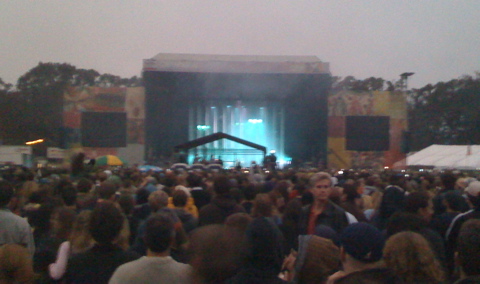 Radiohead on the main stage closing out the first night. Completely fantastic performance in the fog of SF.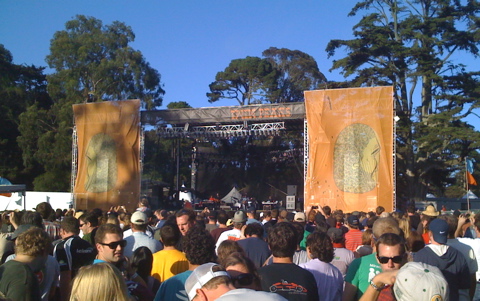 Wilco on the Twin Peaks stage, almost exactly the same spot where I saw Jeff Tweedy play last fall at Hardly Strictly Bluegrass. They should have been on the main stage too, and should have been scheduled more time. They sounded great, they were just getting into a nice groove for the last few songs and then had to stop.
Also saw Tom Petty, Primus, Broken Social Scene and some others. A fun way to spend the weekend, and the last day in particular was sunny and perfect. Pictures are courtesy of Joleen's fancy schmancy new iPhone, which unfortunately has no zoom.
Edit: Nice photos with zoom at Pitchfork.
I managed to write a number of new songs on the Tenori-On while we were in Glacier, I'm thinking I will do a quick little album of Tenori-On songs after I'm done with slowburn. For now, it's back to finishing it up. Burning Man is happening this week, so maybe this would be an appropriate time to end the project, three years after we performed it there.