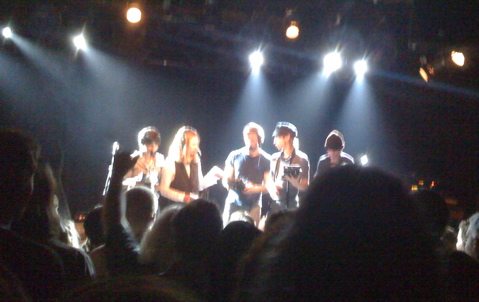 Saw Beck again, this time at the Independent on Sunday night. This was a much smaller show than at the Outside Lands Festival and it was fantastic. The highlight was when everyone in the band put down their instruments and grabbed handheld grooveboxes for "Hell Yes", as shown in the picture, with Beck using a DJ fake-vinyl scratching program on an iPhone while he rapped through a headset mic. Dan the Automator of Gorillaz and Dr. Octagon production fame opened with a DJ set. Fun night!
Edit: SF Chronicle article about the show.
I basically didn't work on slowburn at all this week, other than listening to it every day and writing down the remaining things I want to work on. I am contemplating adding beats to the first and last songs, as they currently are the two parts that aren't working for me. Part of me says I should spend more time getting them to work as they are, but a louder part is telling me to finish this project up by whatever means necessary, and a simple unavoidable truth of electronic music is that adding a beat makes almost anything sound better. One option if I did add beats to them would be to also release a free beatless version of the entire album, which could be cool…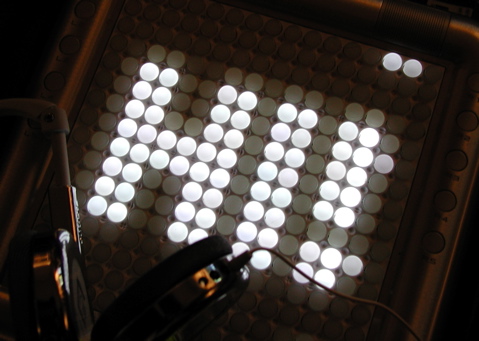 Instead of doing real work, I played around with the Tenori-On and started plotting out a post-slowburn strategy for releasing some more new music. I started by organizing all the little music fragments I'd written since I got the Tenori-On four months ago, and found to my pleasant surprise that I had about one hundred and thirty different little musical bits saved on there. That's a lot of song ideas! The device is a bit over-priced, and has a number of technical shortcomings, but it is clearly a great match for me as far as inspiring me to write new music. Anyway, I sorted through them all, picked out the best bits, and chose around thirty to work on further and hopefully develop into two to three minute little songs.
My tentative plan is to release digitally through iTunes a series of EPs with 4-5 of these little Tenori-On songs each, as a little side project while we figure out where submodern will go next. Dallas and I have talked about focusing on our Cryptic Funk record label, and trying to move in to the digital age by doing smaller and more frequent releases instead of waiting to have enough songs to fill up a CD. This project would help us dip our toes into that and figure out the technical process of releasing things purely digitally. Our eventual goal is to help other people release their music through the label and in doing so promote the sort of melodic electronic music we like. For now though, being able to release my own songs more quickly and easily would be cool.
Anyway… the bottom line is I spent the week screwing around with the Tenori-On instead of finishing up the album!
So, enough fun stuff, time to buckle down and finish this project. First priority is finding some way to be happy with the first and last songs. Second priority is to work more on some of the builds, and add a little effects weirdness to sections of the percussion, as well as finalize the drum bus processing. Last priority is to add any little touches necessary to make things a little more interesting and cover up any remaining things that are bugging me. Here we go, hopefully…