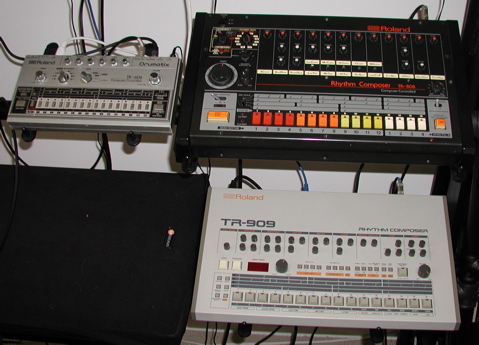 The original ambient slowburn set was all Nord Modular, with no drum samples or sounds. We wrote it this way because we wanted to play at the Center Camp Cafe, which is sort of an informal social hub of the Burning Man festival where a lot of people tend to hang around, and the Cafe specifically asked us not to use any drum machines. Without getting into boring detail, there's a lot of dance music at Burning Man playing 24/7, and a lot of people who get sick of that real fast, and even though our music has always been intended for listening rather than dancing, when people hear certain drum sounds they associate it with certain bad and boring music that we again won't go into detail about. The Center Camp Cafe wanted to be a safe haven from those omnipresent and ever pounding beats, and so they basically told us flat out that we could only play there if we ditched the drum machines. At first I was a little taken aback by the request, because I have a healthy ego and can in fact be an arrogant schmuck about music related things sometimes (I think my initial gut reaction was something along the lines of "YOU want ME to re-write all of MY music that I'VE spent years creating just so I can play MY music the way YOU like it? What do you think I am, a glorified jukebox?"). But, I quickly realized that yes, I actually did want to play there enough to re-write everything and that it would actually be a really great excuse to do so. And hey, some of my best friends are jukeboxes…
Anyway, I am getting distracted from the topic of drum machines… in short, we did re-write everything, we didn't use any drum machines, and the live set actually got noticeably better for it. One of the nasty secrets of making electronic music is that you can write some really mediocre music and when you put a beat behind it, it still ends up sounding pretty damn good. This is particularly true if you use either of two of the machines pictured above: the Roland TR-808 and TR-909. The 808 has been a defining drum sound in hip hop, from old school to present day, as well as electro and pop and everything in between. The 909 is, was, and will continue to be the defining drum sound in electronic techno and house music, there simply is no other substitute other than… samples of the 909. Basically, the sounds these two machines make are so familiar, and so ingrained in the subconscious of many an electronic music lover after having heard them pounding out beats for eight or twelve hours at a stretch long into the night and through to the next morning, that you can get away with murder as long as they sit there banging away and doing their thing behind the rest of your crappy song. Take them away, and you have to work a lot harder to write something that will interest people for an extended period of time.
So, in the end it turned out to be a good thing that we were forced to leave them behind, and focus instead on the melodic and textural aspects of the music. Even just the process of re-working our old songs into a new style was good for us, but I still think taking away the crutch of beats was the real key. Once we got back from the craziness of Nevada though, and started looking for other places to play this set, we had a thought: now that we had music that sounded good even without drums, hey, maybe it would sound even better if we then put them back in? And so that's what we did, and it did in fact sound even better with the drums back in, which was great.
For this studio recording, we are going to try to balance the two extremes, and use drums in some parts and leave them out in others. This album is definitely intended to be a kick back on the couch and space out sort of experience, and not a party all night dancefloor packer. The beats will most often kick in to accentuate the building and releasing of tension, and they will all be heavily processed by external effects equipment much like the synth sounds will be. We will be exclusively using the three drum machines above: the 808, the 909, and their little brother the 606. We will also limit ourselves to sequencing them using only their internal sequencers, and we will resist the urge to sample and re-process them. So there will be no fancy computer tricks, just basic old school patterns and sounds made by quirky old analog drum machines.
Perhaps the best thing about these drum boxes is that beyond just sounding great, and they do sound great, they are really easy to use and just flat out fun to play around with. Hopefully they will be able to add some of their magic to the slowburn recording process.
Drum machine demos:
TR-606 Drum Loop. Dry, then through Frostwave Funkaduck filter, then through Frostwave + Roland PH-1R phaser, then Frostwave + PH-1R + Line 6 Echo Park delay. Meant to use a distortion for one of the stages, but I forgot…
TR-808 Drum Loop. Dry, then through Culture Vulture distortion, then through CV + Moogerfooger Phaser, then through CV + Phaser + Moogerfooger delay. Infamous cowbell included…
TR-909 Drum Loop. Dry, then through Moogerfooger Murf overloading the input only, then through the Murf overloading and also with the filters mixed in a bit, then through Murf + Mutronics Mutator + Moogerfooger delay. Meant to use the Sherman Filterbank on this one but I spaced…