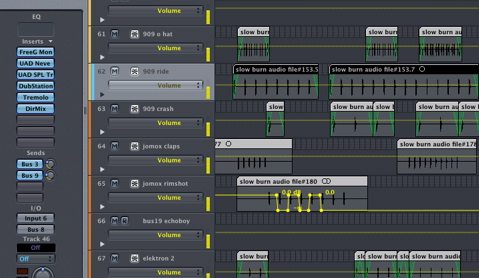 They aren't done, but they're as close as the other songs are, and I feel like I've been chasing my tail for most of the last week and not making great progress. So here is the last set of three songs: bubblepop, laguna, and rollover. There are still some bits that aren't quite there, and the drums haven't quite gelled, but hopefully I can fix everything up as we move on to the next stage.
That next step is to assemble all ten songs together into the full continuous sixty minute album, add or extend some interludes to help with the overall tension and release, add some noises and bleeps to certain songs, reduce some of the sonic clutter and hide the parts I'm not happy with, enhance and emphasize the parts that really work, and try to make sure each song has something that sets it apart in the overall mix. I also have to finish up the last song, which is currently in an incomplete state since it wasn't part of any of the three sets of three songs.
After that, the last step will be to bounce out all the individual tracks and do the final (finally!) mix. This will entail creating the final reverb patches, doing corrective EQing and sidechain compression/gating to fix mix problems, and the final volume automation. This stage is basically all technical work. We'll also be able to make remix packs from the bounced files for people to play with.
I'm going to take a break for a couple days, listen to the current full length mix, and then get back to work and hopefully finish things up soon. I think it's sounding pretty good at this point, but I also know I've listened to it so many times that I've lost a lot of perspective, so we'll see…